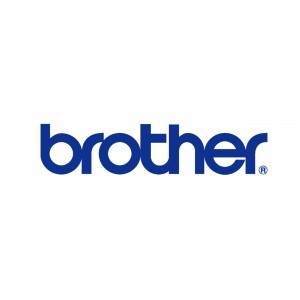 Sewing and embroidery machine Brother Innov-is F580 - VIP ASSISTANCE
Consegna: da 1 a 3 giorni
The combined sewing, embroidering and quilting machine Innov-is F580 is the brightest star in the F-series firmament.
Wireless connectivity, color touchscreen, side transport, on-screen editing and more in an agile, stylish and easy-to-use machine.

Designed for designers - the new Innov-is F580 sewing, quilting and embroidery machine. Easy to use, this machine boasts a color LCD touchscreen, tons of beautiful embroidery and, of course, all the innovations of the Brother brand.
Description
Bring your style to life with 241 useful and decorative stitches, including 10 types of buttonholes in a single operation. You'll find 193 embroidery designs included, 55 of which are brand new for the F series!

Words spring up when you have 13 embroidery fonts and 5 sewing mode fonts at your fingertips. Even more when you combine them with the on-screen editing function. Use the color LED touchscreen to flip, rotate, change colors, and repeat embroidery and text.

Expand your choices even more with My Custom StitchTM. Design your own decorative stitches right on the machine and save them for future use.

Professional finishing comes standard with the innovative Square Feed Drive System (SFDS), giving you superior quality and durable stitching on any fabric. With four side feed modes, decorative stitches come out sharp and precise. With automatic top thread tension, holding and perfect stitch finish will no longer be a problem.

The pressure adjustment, allows for wrinkle-free stitching even on particularly elastic. There is no more need to avoid "difficult" fabrics. In addition, the included double transport foot will allow you to tackle projects with multiple layers of fabric with ease.

Sewing experts or beginners will appreciate the Innov-is F580's ease of use, with its advanced needle threading system, quick-insert bobbin, speed control and simplified threading system.

Nothing can limit your creativity. The wireless LAN function allows you to easily transfer embroidery designs to the machine and connect to Artspira, our new creative hub!

FEATURES IN DETAIL


General
Color LCD touchscreen
3.7" color LCD touchscreen lets you see everything you need.

Advanced needle threading system
Simply press the dedicated lever to thread the needle.

Bobbin winding system
Quick and easy threading speeds up and facilitates bobbin winding.

Bobbin insertion
Simply insert a full bobbin and you are immediately ready to sew.

Automatic thread cutting
Automatic top and bottom thread cutting.

Wireless connectivity
Add embroidery designs, transfer data, receive update notifications and connect to the Artsipra creative hub
Embroidery
Large embroidery area (180 x 130 mm)
This model features a large embroidery area to allow you to express your creativity.

193 embroidery designs available
Choose from a rich variety of floral, seasonal, animal and more embroidery designs. With the wide range of embroidery designs available you can start embroidering immediately!

13 Fonts
Easily customize your embroidery and sewing projects by choosing from 13 fonts available in 3 sizes.

Artspira
Unleash your inner artist. Design your own embroidery designs or download exclusive ones Brother.
*Artspira is scheduled to launch in late 2022.

Color sorting function
Fewer thread changes = more time to make.

Cut skipped stitches
Put the scissors away! Skipped stitches are automatically cut for you.

Frames
Complete your embroidery with a touch of class by enclosing it in an elegant frame. Choose from 10 frames and 14 stitch types to achieve over 140 combinations. Use the available letters to create elegant and exclusive monograms.

Edit embroidery designs
With the touch of a button you can change the size, rotate or create flips on your embroidery.

Combining embroidery designs
Allows you to combine embroidery designs or text with each other.

Text editing functions
Add multiple lines of text and align them however you like, left, center or right. Text rotation and font selection are also available from a single editing pane.

USB port
To connect USB devices, such as a flash drive or card reader/writer, and load embroidery designs directly into the machine.

Optional 180 x 100 mm magnetic hoop
Hooping becomes a breeze, the magnetic hoop protects precious fabrics (optional accessory purchased separately). For intelawing fabrics up to 2 mm thick.
Sewing
241 stitches, including 10 buttonholes
Sew elegance, with your Innov-is F560 you have 241 useful and decorative stitches, including 10 types of buttonholes in a single operation.

5 Alphabets Included
Words arise spontaneously when you have 5 fonts at your fingertips.

Stitch Combination
Ability to combine up to 70 stitches and save them in the machine.

Stitch Reference Guide
Choose the stitch you need by consulting the chart inside the top cover.

My Custom StitchTM
Expand your choice even more with My Custom StitchTM. Design your own decorative stitches directly on the machine using the color LCD touchscreen. Save them for use in many different projects.

Multidirectional stitching
With four side feed modes, decorative stitches come out sharp and precise.

Stop stitch button
Just press a button to automatically stop stitches at the beginning or end of sewing.

Speed adjustment slider
Adjusts the sewing speed from minimum to maximum. The slider can also be used to adjust the stitch width while sewing.

SFDS: Square Feed Drive System
Ensures smooth and even feed for perfect seams on fabrics of any weight.

Adjustable presser foot pressure
Perfect seams on even the most stretchy fabrics with simple on-screen electronic adjustment.

Adjustable thread tension
Adjustable top thread tension allows you to get the best results on different fabrics.

Thread Sensor
The Innov-is F580 has an upper and lower thread sensor that alerts you when the thread is running low or has broken.

Free arm
Ideal for sewing tubular elements such as sleeves, trouser legs etc.

KneePad
Using the knee pad you can raise and lower the presser foot without needing your hands.

Double transportfoot included
With the included double transport foot and quilt guide, you can tackle multi-layer quilts with ease, no matter what combination of materials you use to make them.


MAIN FEATURES


180 x 130 mm embroidery area
193 embroidery designs included, including 55 presented for the first time!
13 embroidery fonts, including 2 brand new ones!
Automatic cutting of connecting stitches
Color sequence sorting
Advanced needle threading
Wireless LAN enabled
Artspira app connection
241 stitch types, including 10 buttonhole types, plus 5 fonts (in sewing mode)
190 mm (7.4 in.) work space
Side feed and SFDS
Automatic upper thread tension
Automatic thread cutting
My Custom StitchTM
Hard case


PACKAGE CONTENTS


Zig-zag foot "J" (on machine)
Monogramming foot "N"
Overlock foot "G"
Zipper foot "I"
Invisible hem foot "R"
Button-stitching foot "M"
Buttonhole foot "A"
Embroidery foot "Q"
Open toe foot for freemotion "O"
Double-carry foot
1/4" size foot
Quilting guide
Overlock accessory "S"
Open-toe foot
Non-stick foot
Stitch guide foot "P"
Adjustable zipper/cord foot
Needle set
Twin needle
Bobbin x 4 (One bobbin is on the machine.)
Buttonhole cutter
Scissors
Cleaning brush
Eyelet punch
Screwdriver (large)
Screwdriver (small)
Disk screwdriver
Horizontal spool holder
Spool retainer (large)
Spool retainer (medium) x 2 (One spool retainer is on the machine)
Spool retainer (small)
Insert for wire spool (mini-extra large wire spool)
Netting
Knee lift
Standard bobbin basket (green mark on screw) (on the machine)
Alternative bobbin basket (no color on screw)
Rheostat pedal
Embroidery frame set (extra large (multi-position)) 30 cm (H) × 13 cm (W) (12 inches (H) × 5 inches (W))
Embroidery frame set (large) 18 cm (H) × 13 cm (W) (7 inches (H) × 5 inches (W))
Embroidery bobbin thread (thickness 60, white)
Accessory bag
Hard case
Set of graph paper
Instruction manual
Quick reference guide
Embroidery guide
Product Details
Video