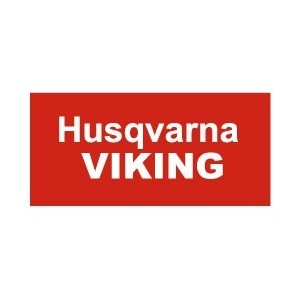 Sewing and embroidery machine Husqvarna Viking Designer Topaz 50 - VIP ASSISTANCE
Consegna: da 1 a 3 giorni
A modern sewing and embroidery machine, with an interactive color Touch Screen, precise positioning and a series of integrated aids.
Description
Immagina. Crea. Stupisci.
Trasforma il modo di cucire e di ricamare da ordinario a qualcosa di straordinario: con la macchina per cucire e ricamare DESIGNER TOPAZ™ 50 potrai portare in vita le tue idee! Porta la tua creatività ad un livello più elevato con favolose cuciture e ricami indimenticabili!
 
Innovazioni frizzanti...
Con il nuovo schermo interattivo a colori è facile navigare nelle schermate per cucire, modificare e ricamare.
Con la funzione posizionamento di base disegno  posiziona qualsiasi disegno in modo perfetto.
La macchina per cucire e ricamare DESIGNER TOPAZ™ 50 è sempre aggiornata! Aggiornala con le versioni più recenti via internet.
Generose capacità...
Modifica e salvataggio del disegno di ricamo: nuovi modi per migliorare i tuoi ricami con estrema facilità e unire disegni e font.
Spaziosa area di ricamo: puoi creare e ricamare disegni di grandi dimensioni (fino a 360x200mm) senza dover reintelaiare.
Ampia area di lavoro: cuci facilmente anche quilt di grandi dimensioni, progetti di arredo per la casa e abiti.
Infinite opportunità di punti e ricami già caricati per ispirare la vostra creatività!
 Gioiosa convenienza...
La tecnologia EXCLUSIVE SENSOR SYSTEM™ rileva e regola automaticamente e costantemente mentre cuci, lo spessore del tessuto per garantire un trasporto perfetto.
Seleziona il tipo di tessuto e la tecnica di cucito e la funzione Exclusive SEWING ADVISOR® - La Guida al cucito, imposterà tutti i parametri autonomamente, visualizzandoli sul display a colori.   
Taglio automatico saltapunti: potrai creare ricami splendidi senza perdere tempo per tagliare i fili.
Offre colori vividi e una eccellente visualizzazione.

La macchina per cucito e ricamo DESIGNER TOPAZ™ 50 dispone dello schermo interattivo a colori.
Sfiora i pulsanti di selezione sul pannello interattivo o scorri i punti con le frecce di navigazione. Tutte le informazioni necessarie sono presenti sul grande schermo interattivo illuminato. modifica e Salvataggio del disegno di ricamo- Per risultati personali semplicemente perfetti. La funzione per modificare i ricami sullo schermo della macchina per cucire e ricamare DESIGNER TOPAZ™ 50 è semplicemente incredibile! Ingrandisci e riduci in scala, specchia e ruota i tuoi disegni. Unisci altri disegni e lettere personalizzate. Tutte le modifiche compaiono immediatamente sullo schermo. Salva le tue combinazioni e modifiche personali.
la funzione SEWING ADVISOR®
Il segreto della giusta impostazione al momento giusto!Utilizzando la funzione SEWING ADVISOR® non hai bisogno di indovinare. Basta inserire tipo e peso del tessuto e tecnica di cucito e tutte le impostazioni saranno eseguite automaticamente: punto, larghezza e lunghezza del punto, tensione del filo, velocità di cucito e pressione del piedino. Si consiglia anche di inserire piedino, tipo e dimensione dell'ago. Utilizzando la funzione SEWING ADVISOR® ti sembrerà di avere un altro paio di mani.
TECNOLOGIA EXCLUSIVE SENSOR SYSTEM™
Si regola sullo spessore del tessuto per un trasporto perfetto e costante.Basta spingere il pedale o sfiorare un tasto e la pressione del piedino sensore della macchina per cucire DESIGNER TOPAZ rileva automaticamente lo spessore del tessuto, assicurandoti un trasporto perfetto e uniforme di qualsiasi stoffa e/o imbottitura. Il Piedino sensore in posizione abbassata/Pivot rileva lo spessore del tessuto per ruotare istantaneamente quando l'ago è in posizione abbassata.
Taglio automatico Saltapunti
Non dovrai più tagliare il filo! La funzione taglia i punti saltati nel ricamo e tira i capi dei fili per ottenere ottimi risultati, senza fastidi.
Straordinaria Superficie per cucito e ricamo
Formato perfetto per grandi idee La macchina per cucire e ricamare HUSQVARNA VIKING®DESIGNER TOPAZ™ 50 vanta un braccio libero molto lungo e un'area da ricamo molto spaziosa (360x200 mm). punti utili, punti Speciali e alfabeti- Punti di alta qualità per ogni tecnica.La DESIGNER TOPAZ™ 50 ti consente  di scegliere tra 261 punti e 5 alfabeti, che puoi selezionare sullo schermo interattivo a colori. Il punto viene visualizzato in dimensioni reali e con le impostazioni consigliate: sei già pronta a cucire.
Luci Led
La massima illuminazione per ottenere risultati perfettiVedere chiaramente l'area di cucito è essenziale per la riuscita del lavoro. Le tre luci LED della DESIGNER TOPAZ™ 50 illuminano l'ago e l'ampia superficie di cucito per non affaticare gli occhi.Accendi la fiamma della tua creatività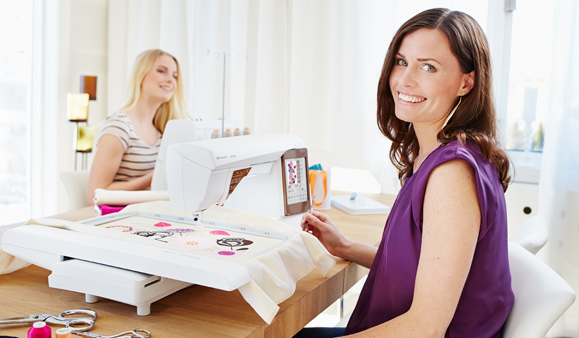 FUNZIONI DELLA MACCHINA
Schermo interattivo a colori
3 Luci Led
Sensore del filo della bobina
Infila-ago incorporato
Aggiornabile via Internet
Funzioni di Cucito
EXCLUSIVE SENSOR SYSTEM
SEWING ADVISOR
Spaziosa superficie di cucito: circa 250 mm a destra dell'ago
Taglia filo selettivo
Doppie guide della piastrina più lunghe: 40 mm su entrambi i lati dell'ago
Tensione del filo a regolazione automatica elettronica
PBB (asole perfettamente bilanciate, 7 stili)
Piedino sensore per asole in un unico passaggio
Posizionamento dei punti
Programmazione di punti, lettere e numeri
Memorie personali, salvataggio su "I miei punti" 24 memorie
Funzione FIX
Funzione STOP
Tasto avvio/arresto
Arresto ago Su/Giù
Retromarcia momentanea e permanente
Caricamento della bobina tramite l'ago
Controllo elettronico velocità
Riavvio del punto
Specchiatura delle immagini in orizzontale e in verticale
Funzione mano libera per tutti i punti
261 punti
Punti da 7 mm
Punti utili
Punti per quilt
Punti decorativi
5 alfabeti programmabilii
Funzioni di ricamo
Ampia area di cucito 360x200 mm ( La più grande del segmento)
Posizionamento di base disegno
Modifica, unione e salvataggio del disegno di ricamo
Inclusi 150 disegni e 2 font di ricamo in tre diverse dimensioni
Taglio automatico saltapunti
Software gratuito HUSQVARNA VIKING® da scaricare
USB Embroidery Stick da 1 GB HUSQVARNA VIKING®
ACCESSORI IN DOTAZIONE:

Piedino per punti decorativi B
Piedino per asole C
Piedino per orlo invisibile D
Piedino per cerniera E
Piedino per rifiniture J
Piedino per rammendo/ricamo R
Piedino sensore per asole ad un tempo
Placca scorrevole
2 Reti per rocchetto
Chiave per rimuovere la lampadina
Taglia-asole
Pennello
2 Placche scorrevoli antiaderenti
2 dischetti in feltro
2 ferma rocchetto, grande (1 montato sulla macchina alla consegna)
Ferma rocchetto piccolo, ferma rocchetto (1 montato sulla macchina alla consegna)
6 bobine (1 montata sulla macchina alla consegna)
Attrezzo universale/ Piastrina elevatrice
USB embroidery stitck (1 GB)
16 Fermi del telai
Penna Pictogram
Forbici
Aghi
Custodia da trasporto (montata sulla macchina alla consegna)
Pedale
Cavo del pedale
Cavo di alimentazione
Guida rapida
  
Telai:

Telaio DESIGNER™ Royal Hoop, 360 x 200
Telaio DESIGNER™ Splendid Square Hoop, 120 x 120
Product Details
Sheet
Customer type
Embroidery and Sewing
Patchwork & Quilt
Specific References
| | |
| --- | --- |
| ean13 | 7393033081591 |
| mpn | 7393033081591 |
Video