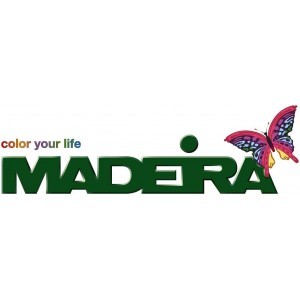 MADEIRA Stabilizer AVALON PLUS Wash Away soluble hydrosoloble embroidery 9442
Consegna: da 1 a 3 giorni
Wash Aways are water-soluble films to stabilize fine, transparent fabrics, terrycloth, knitwear or velvet. Water-soluble supports are also suitable for lace embroidery, giving the embroidery a sharp look.

They are called "Wash Away", because the stabilizer after embroidery is put in cold or hot water and is simply washed off.
Description

AVALON PLUS
30 cm x 3 m, Art. 9442
50 cm x 1 m, Art. 9401
50 cm x 25 m, Art. 9426 Stabilizzatore " Wash - Away "
Stabilizzatore idrosolubile. Ideale per ricami su stoffe leggere, delicate o trasparenti.
Adatta in modo ottimale per il ricamo dei pizzi, per il ricamo di monogrammi, del punto Richelieu e per il quilt.
Istruzioni per l'uso di AVALON PLUS:
AVALON PLUS è una pellicola molto resistente e idrosolubile, che può essere posta al di sotto o al di sopra del tessuto come rinforzo. AVALON PLUS può essere ricamato anche senza tessuto.
Ricamo a macchina a mano libera: Fissare uno o due strati di AVALON PLUS nel telaio da ricamo e disegnare un motivo a piacere con un pennarello evanescente (ad es. MADEIRA MAGIC PEN, Art. 9470) direttamente su AVALON PLUS. Poi ricamare prima di tutto il contorno del motivo 2 volte a mano libera. Successivamente ricamare il motivo con una trama o con piccoli movimenti circolari, a tal proposito i punti devono essere sempre uniti tra loro, affinché il motivo non si distacchi dopo il risciacquo dello stabilizzatore . Ricamare ora il motivo a piacere con punti dritti o a zig-zag. Dopo aver terminato il lavoro, togliere AVALON PLUS con il ricamo dal telaio. Tagliare lo stabilizzatore ed eliminare con acqua l'eventuale residuo. Adagiare il ricamo tra due strati di stoffa e stirare a secco.
Ricami su tessuti leggeri e tessuti di spugna: appoggiare il tessuto tra due strati di AVALON PLUS (Collage di tessuti/fili/fibre) e fissare tutti e 3 gli strati insieme nel telaio da ricamo. Dopo il ricamo, tagliare lo stabilizzatore in eccesso ed eliminare con
l'acqua i residui.
Ricamo Richelieu: appoggiare il tessuto su uno strato di AVALON PLUS e fissare cucendo i fori contrassegnati con alcuni punti dritti. Ritagliare con delle forbici da ricamo il tessuto all'interno dei fori senza tagliare lo stabilizzatore. Successivamente ricamare il bordo del ricamo con punti a zig-zag. Risciacquare adesso AVALON PLUS.
Importante: Conservare AVALON PLUS sempre nella protezione ben chiusa. In questo modo proteggerete la vostra pellicola dallo sporco, dall'umidità e dal calore.
Product Details